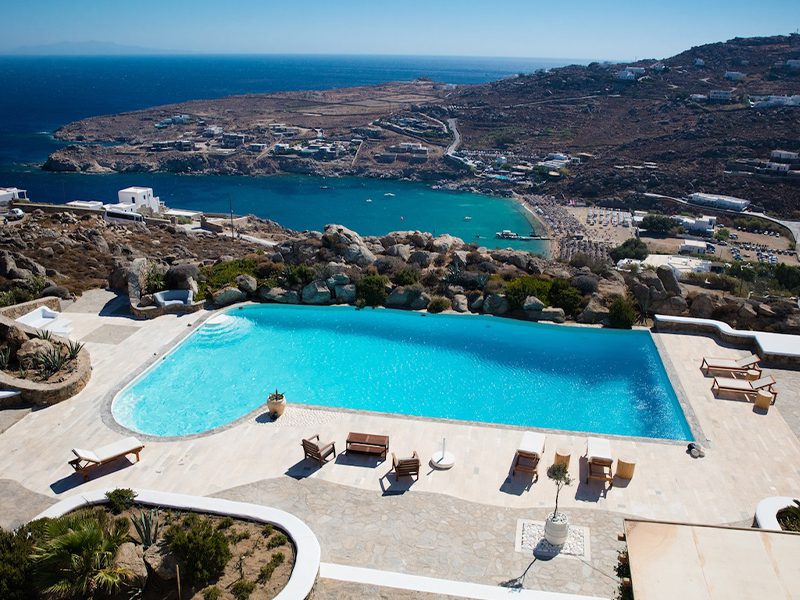 Villa Paradiso, located in a privileged spot of Mykonos island, with panoramic views of the Aegean Sea and the islands of Paros, Naxos, Sifnos and Ios, as well as the unique Super Paradise beach, the luxurious villa aims to please the senses. From the spacious and airy outdoor spaces, covering a total of 2,000 square meters, to the tasteful guestrooms and functional interiors, the attention to detail is evident in the choice of the most quality materials.
The villa features eight bathrooms and nine double bedrooms, three of which are master bedrooms, with en-suite marble bathrooms and a mini fridge. It can comfortably accommodate up to 18 guests.
The fully equipped kitchen, living room and dining room in shades of white and gray are on the ground floor, while three bedrooms are on the first floor, offering uninterrupted views of the Aegean Sea. A large terrace with a sitting area in the master bedroom provides the most romantic setting for two.
Two of the bathrooms stand out thanks to the imaginative hand-carved drawings, made by artisanal marble craftsmen from nearby Tinos island. There are two additional guesthouses, totally independent from the house, offering privacy and tranquility. The furniture is all hand-made by well-known designers, using solid oak wood. Special attention has been paid to lighting, also hand-made and custom-made, with the impressive light fixture in the living room bearing the signature of Le Corbusier.
The large swimming pool, measuring 10 x 20 meters with a maximum depth of 3.4 meters, is ideal for kids of all ages looking for some fun in the sun, but is also idyllic as it is sheltered from prying eyes by the landscaped garden of cactus, laurels and cypresses. There are several relaxation areas around the pool area, with sofas and sunbeds accommodating the changing needs of night and day. The villa has a total of three outdoor dining areas, protected from the sun and the wind under large pergolas of chestnut wood, and serviced by a fully functional outdoor kitchen and barbeque. 
A built-in marble table, a wooden dining table and one rotunda are available for dinner under the stars, providing the ideal setting for all kinds of events, from the most romantic meal for two to a wedding party. Moreover, another special lounging area is literally carved into the rocks, isolated from the rest of the house, with fantastic views across the Aegean, multiplying the holiday experience.
All guest rooms have either air-conditions or ceiling fans. There is wi-fi Internet connection and also audio equipment. The house is fenced and there is a safe at the disposal of guests, as well as convenient parking for 10 vehicles.
Villa Paradiso is located 3 minutes from the beach, 12 minutes from Mykonos Town and 7 minutes from the airport. It is very close to the most popular beaches, while offering tranquility and privacy to its guests.
Bedrooms
9
Bathrooms
N/A
Price
Contact
Location
Mykonos Villas, Greece
Air-Conditioned
Wi-Fi Internet
Audio Equipment
Safe
Large Terrace
Private Swimming Pool
Sunbeds
Outdoor Dining Area
BBQ
Parking
Housekeeping
Grocery Shopping (upon request with charge)
Tours (with extra charge)
Yacht Rental (with extra charge)
Helicopter Rental (with extra charge)
Massages & Beauty Treatments (with extra charge)
Private Chef for Lunch and Dinner (with extra charge)
Mykonos Town 10 minutes Away
Mykonos Airport 7 Minutes Away
Super Paradise Beach 3 Minutes