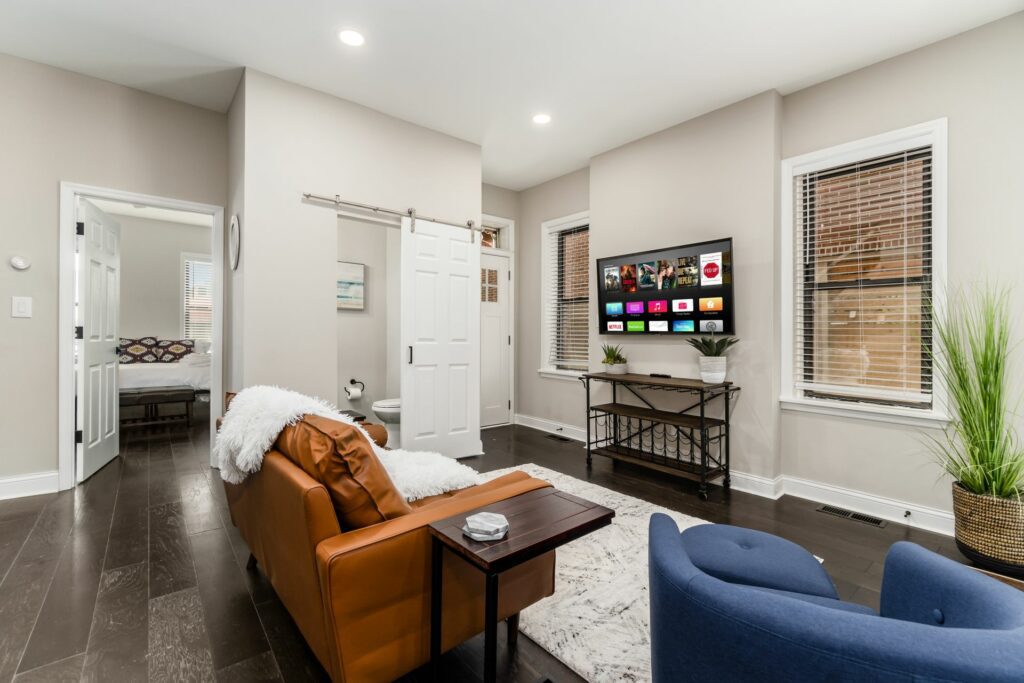 Our Newly Renovated Home is in the beautiful Italian Village/Short North area.
Seconds away from N High Street and minutes away from the convention center, local bars, restaurants, or OSU's Campus.
With this home, you'll be able to enjoy all Columbus has to offer without being too close to have it impact your well-deserved sleep.
Stainless Steel appliances,
Fully stocked kitchen
Spacious open layout
4k TVs perfect for games or your favorite movie
High-quality furniture
A stunning entertainment spot right outback
After a long day filled with activities, you'll have the option of privately enjoying the company of your guests outback while watching a game with a drink in hand.
With us, you'll also have your own private high-speed wifi (that actually works) to make sure all of your crucial remote zoom meetings or Netflix binge sessions go uninterrupted.
There are four ample-sized bedrooms all with extremely comfortable, clean beds and enough space in the home so everyone has a pleasant stay.
With two completely remodeled bathrooms, you'll have ample storage, stand-alone vanities, large showers, and best of all, no moldy silicone you might find with the other hosts in the area.
We pride ourselves on actually meeting all COVID-19 cleaning procedures at Gibson and Hetherington, instead of cleaning off the counters and high traffic areas once in a blue moon.
Another benefit of booking our home instead of an apartment is the limited contact you have with other people during your stay.
If you desire, you can go your entire visit without having to run into another person or walk through common areas that countless other people have traveled through.
Among affordability and service, safety is one of our top priorities for us to offer to our guests.
All exterior entrances have high-quality cameras installed to make sure you and your valuables are kept safe.
As always with Gibson and Hetherington, if you are in any way dissatisfied with your stay, our 24/7 customer service team will gladly help resolve the issue, whether that means sending someone to the property to help or move you to one of our other available units at no extra charge.
Give us the opportunity to prove to you why Gibson and Hetherington is leading the pack in the best vacation homes and services Columbus has to offer.
Elevate your standards, and stay with us on your visit to Columbus.
**We officially demolished the Garage as of 9/13/21 (this won't interrupt your stay) and will be starting to build the Carriage house hopefully before the first of the year (waiting to get everything else approved). For now there are 2 FREE spots that you will have on the paved area behind the house (no alley parking). We will let you know if anything changes, but please understand if you have booked for between now and the first of the year (2021) that you will need to refer below for parking situation if we are to start on the Carriage house. This is why we don't market FREE parking just in case.
Please note if you have booked between October 2021-December 2021 see below for parking if we have started on Carriage house (which we would inform you before arrival).
If you need to park any cars there is On-Site PAID parking right in front of the house (first come basis) and Off-Street PAID parking on East 1st avenue by using the ParkColumbus App for any street parking. Its a min 3 hour and then have to add more hours from the app (I wouldn't worry to much if you're not right on it every 3 hours). If you are worried then I recommend to park in the Hubbard Parking Garage which is right around the corner from the house. Its a 1 minute drive and 5 minute walk too and from. .***
The Space
Perfect for a weekend getaway with friends, family, business trips, and individuals traveling for events that are always being held in the Short North & Columbus Area.
Our updated 4br sits on N Fourth Street where you will enter through the front or back through the garage that includes modern finishes such as Hardwood Floors, Granite Counter Tops, fully renovated bathroom, fully renovated kitchen, Fine art, & a Large Patio area where you can enjoy yourself out on the patio watching tv and enjoying a nice cold drink or glass of wine.
Our 4 bedroom, 2.5 bathroom has everything you need to enjoy your stay here in Italian Village and feel at home! Our Modern House includes 3 bedrooms upstairs and 1 bedroom on the main level. Upstairs is one king bed with a connected walk-in shower and 2 bedrooms with a queen bed. Right around the corner from the 2 beds upstairs is where the 2nd full bathroom sits. On the bottom floor is your living room space, a fully stocked kitchen, and 1 bedroom that has a queen bed with a half bathroom right outside the door. Our common/living room space comes with 1 comfortable couch and chair where you can relax and enjoy streaming with our smart TV. Lastly, our Luxurious kitchen is stocked with FREE coffee, a blender, a microwave, toaster, cutting knives/cutting board, & cookware to cook full course meals for your other behalf, friends, and family. There are a Washer and Dryer in the house, high-speed WIFI & a Smart TV to watch all the Netflix you want (no cable).
There is plenty of windows allowing for natural light. Enjoy a shower that includes (Shampoo, Body Wash/soap, Towels, Washcloths, & Hand Towels).
Guest Access
You can access the home anytime after 4 PM by using the Keyless Keypad to enter. We ask that you respect our home and the quiet hours of the community. Our home is not baby-proofed, and may not be ideal for families with very small children; however, children are welcomed at your own discretion.
Other Notes
HOUSE RULES:
1. NO Parties. Our properties are all residential, so we ask that you please respect the property as if it was your own home. Only registered guests are permitted inside the property. Parties and loud noises are strictly prohibited. To ensure this for you and other guests, we have cameras and audio sensors outside the building's entrances.
Violation of our no-party rule will result in a $500 collection and immediate cancellation of your stay, police may be contacted and act on our behalf. Thank you for respecting our community and for being a good neighbor.
2. NO Smoking in or around our properties. All of our units are non-smoking. This includes the use of cigarettes, marijuana, and/or vaping. If you wish to smoke we ask to take it outside. ANY VIOLATION of this rule will result in $200 fine or collection if necessary. This includes any evidence of tampering with the smoke detectors which may be monitored remotely.
3. NO music video recordings at all!
4. Keep in mind quiet hours to respect each and everyone's stay around you.
WIFI:
Our properties are equipped with free high-speed internet and network name and password will be sent to you a few hours prior to check in. Please refrain from any illegal downloads as it's a federal offense here in the US.
HOUSEKEEPING:
We provide linens, towels, soap, shampoo, toilet paper, and paper towels inside the unit for you. If you have arrived and something is missing, please alert us immediately so that we can make sure to send someone over with the replacement as soon as possible. If you are in a unit where an air mattress is available and have spoken with our team about using it, the extra pillow and sheets are in the closets. We do not provide daily housekeeping or laundry service during your stay unless requested for long-term stays.
SURVEILLANCE:
Our properties may also be monitored by EXTERIOR security cameras. These are used for the security of you, your guests, and others around. Please refrain from any illegal activity on the premises.
OUR TEAMS WORK HOURS:
Our Customer Service Team is available Mondays from 8 AM – 11PM. Tuesday-Sunday 9 AM – 2 AM EST. Keep in mind our team is always here for you to ensure you have a 5-star experience. Please do not call or text the number provided through the channel you booked through as it will go to voicemail. Please communicate through here.
Email: Daniel@ghluxproperties.com
STAY IN THE HEART OF THE SHORT NORTH
Heart of Columbus, OH

Sleeps 8
Bedrooms
4
Bathrooms
2.5
Price
$225 – $1000 per night
Location
Columbus, Oh
Large Patio w/ Outdoor TV
Free Parking
Laptop-Friendly Workspace
Hair Dryer
Kitchen
Iron
Washer
Dryer