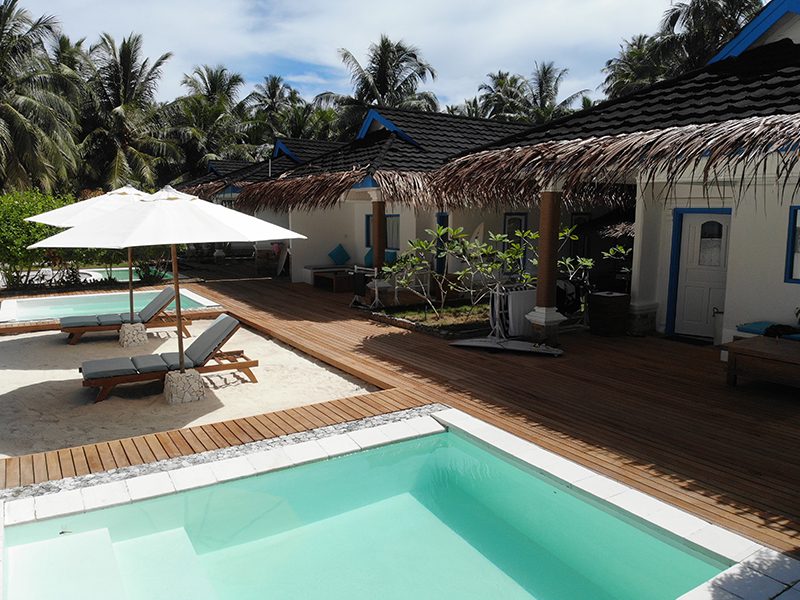 Located right in front of one of the finest right-handed waves in the world, Hollow Tree's resort is a dream location for the perfect trip in Mentawai with friends & family.  Reopened in April 2017, the resort offers four beachfront villas combining the Indonesian & European services. Each of them shared two bedrooms with double or single beds & one big bathroom with all modern amenities: AC, hot shower & dipping pools offer chill areas to relax & refresh.   
The resort features a restaurant concept where the in-house chef cooks every day fresh gourmet meals from Western & Asian inspirations.  Lunch and dinner are served buffet style, and for breakfast, you order from the mouthwatering menu. Freshly squeezed juices and smoothies available all day along with the best coffee in the island!  
The dining area looks out onto HTs, so you can spot surfers carving the waves from the moment you sit down.
A tree house, equipment's such as stand-up paddles, kayaks, pool tables & a wide range of activities from scooter rides to massage complete the epic experience & make the resort a couple/family-friendly destination.   
Good vibes, well-being & a sense of freedom guaranteed!
Bedrooms
8
Bathrooms
4
Price
Contact
Location
Mentawai, Indonesia
Spa
Surf Shop
Tre House
Yoga Deck
Restaurant
Bar
Dipping Pools
Beach Front